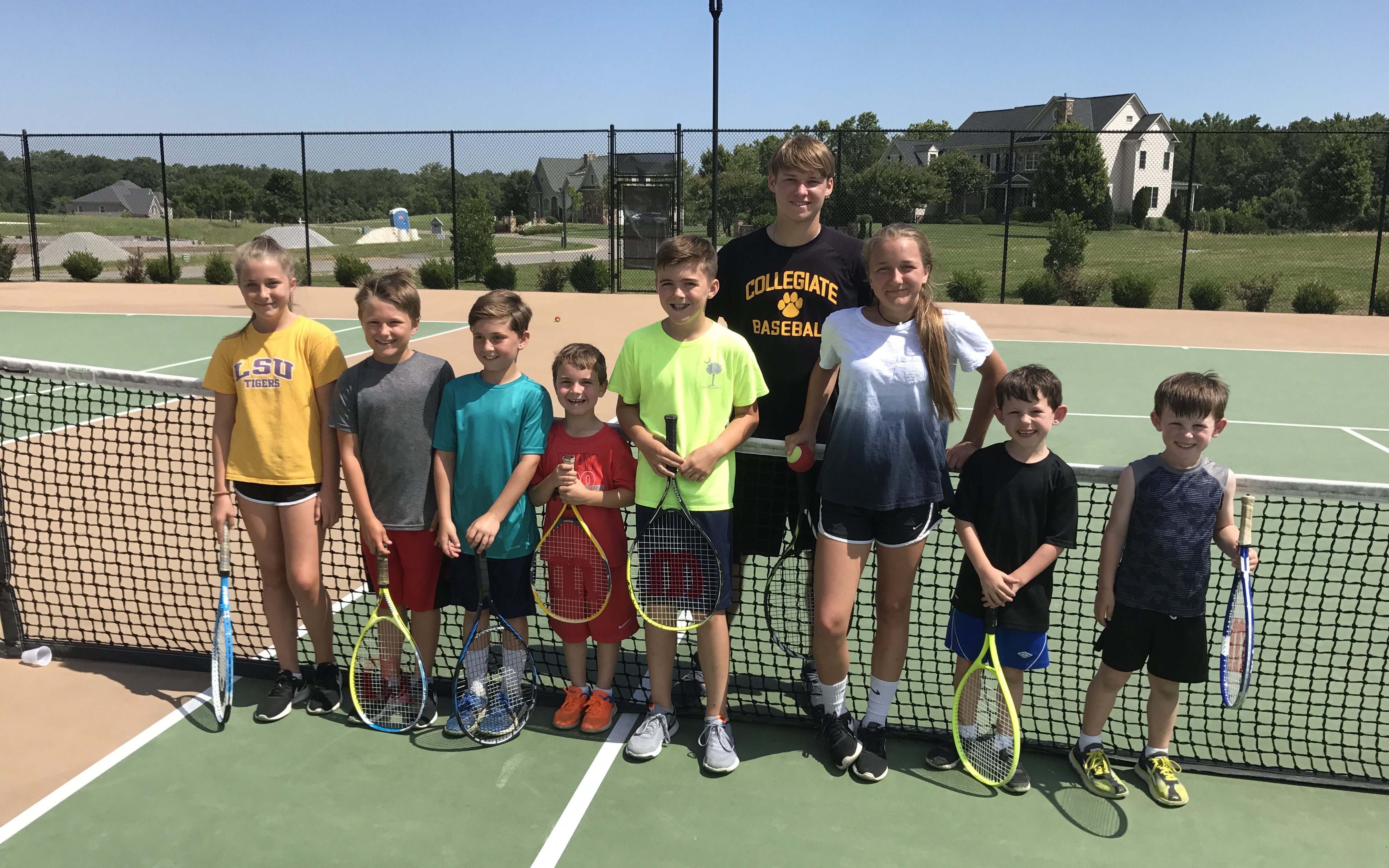 If golf isn't your only game, get a tennis match going at the club! The Federal Club offers two lit hard-surfaced tennis courts. Reservations can be made through our golf shop at (804) 798-4996.
Clinics & Camps
After School Juniors Tennis Clinics
Our Junior After School Tennis Clinics are generally held on Tuesdays from 4:30 – 5:45 PM. For more current information regarding our after-school clinics, please contact Chris Gilman. These clinics are $18 per week (no long term commitment required) and are ideal for beginner to intermediate players from 6 to 15 years old. We will learn and practice forehand, backhand, serve and volley thru drills and fun games.
Please RSVP to Chris@thefederalclub.com.
All clinics require a 4 player minimum. You may invite non-member guests to participate in any clinic for $25 . There is no season commitment required. Just come play when you can.
2023 Summer TFC Junior Tennis Camps
Junior Tennis Camp #1
June 19 – 23 (Monday-Friday) | 9 – 11:00 AM
Ages: 6-15
Cost: $125 (members) – $150 (non-members)
Junior Tennis Camp #2
August 14 – 18 (Monday-Friday) | 9 – 11:00 AM
Ages: 6-15Cost: $125 (members) – $150 (non-members)
Chris Gilman will cover the basic strokes; forehand, backhand, serve and volley. Singles and Doubles will be played as well as other fun contests such as "Tennis Baseball". Scoring and game etiquette will also be taught. Includes Gatorade and snacks.
Email Chris@thefederalclub.com to sign up or ask for more information.
---
2023 Summer Three Sport Camp
Our Most Popular Camp!
GOLF – SWIM – TENNIS
July 24 – 27 (Monday-Thursday)| 9 AM – 2:30 PM
Raindate: Friday, July 28
Ages: 6-15
Cost: $350 (members) – $450 (non-members)
The Three Sport Camp will be combined with the golf Operation 36 program. The Tennis portion of the camp will be from 9:00am to 10:30am. The Golf session will run from 10:30am to 12:00noon. Lunch will be provided poolside at 12:00noon and campers will enjoy supervised pool time until 2:30pm.
Pickup from the pavilion/pool area anytime from 2:30pm to 3:00pm.
Please email bret@thefederalclub.com for more information
To Register: Click Here